Nochebuena
, originally from Mexico, is one of the most beautiful flowers in Latin America and the world. 
The Cuetlaxóchitl (Nochebuena) goes beyond a Christmas decoration plant. Its history and its legends reflect the importance it had in pre-Hispanic Mexico. If this mythical flower captivates your senses... discover the magical legend behind it.
---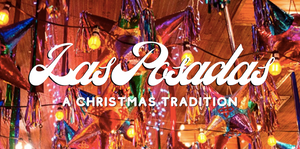 During the Christmas season, Mexican neighborhoods are filled with lights, color, and music. It's common to see groups of people, children and adults, singing a Christmas carol in the streets. They appear at the door of a home, singing a song that asks for accommodation, just as María and José did. It is a very old Mexican Christmas tradition that is celebrated not only here, but also in Costa Rica, Honduras, El Salvador, and Panama. Posadas begin on December 16th and end on December 24th. Nine days symbolize Virgin Mary's nine months of pregnancy. Today, we will talk about what you need to know about posadas and what happens during one!
---
On December 12, Mexico celebrates the Day of the Virgin of Guadalupe, one of the largest religious celebrations in the country. It is a day of celebration for millions of parishioners as they honor the Virgin of Guadalupe. It marks the meeting of Juan Diego Cuauhtlatoatzin, a Chichimeca Indian, with the Virgin of Guadalupe in 1531. Mexican liturgical tradition regards it as one of its most important festivals. ⁠
---
The origins of papel picado can be traced back to Chinese culture (the paper used is China paper), and it has been used in Europe since the 16th century. 
During the 19th century, Mexican peons were forced to shop at haciendas for their goods and among them was Chinese paper. Aside from the tasks inherent in the field, Huixcolotla's residents worked this paper until they produced their own, a true Puebla craft known today as 
Papel Picado
. 
---
Every brand starts with a dream and purpose. Ours was born out of immense gratitude and desire to give back to our artisan communities through opportunities that will help Mexican artisan women achieve their entrepreneurship dreams. The artisans we collaborate with are not just our partners, but also our friends.  We have seen them flourish while keeping Mexican traditions alive and sharing embroidery techniques with their children and grandchildren.